Is a Dow Theory Non-Confirmation In Play?
Dow Theory:
The original Dow Theory states that the market is in an upward trend if either the industrial or transportation index advances above a previous important high and is accompanied or followed by a similar advance in the other average. For example, if the Dow Jones Industrial Average (DJIA) climbs to a new all-time high, and the Dow Jones Transportation Average (DJTA) follows suit within a reasonable period of time, the upward trend is confirmed.
What's happening right now?
On Oct 3, 2018 the industrials (DJIA) made an all-time high at the time of 26,951. But that record didn't hold for long, as the Dow made a slight new record high in July 2019, and then starting in late-October 2019, rallied strongly and continuously, making new record highs week after week all the way into this month, February 2020.  The high in the Dow so far is 29,415, made just today, February 11.  That's an increase of 9.4% above the October 2018 high.
In contrast, the Dow Jones Transportation Average (DJTA) all time high from Sept 14, 2018 @ 11,623 STILL STANDS.  Moving forward to the first quarter of 2020, the transports high for the new year so far is 11,359, and that occurred back on January 17.  As of this writing (Feb 11, 2020) the transports are 6.2% BELOW their September 2018 all-time high, and 4.0% below their January 2020 high.  There is no question that the transports are substantially lagging the industrials. Unless the transports can take off to the upside and make a new all-time high within the next few weeks, the odds of a Dow Theory non-confirmation at this late juncture are very high, and that would suggest that a trend change to the downside in the U.S. stock market leaders may be relatively imminent.
Technical Analysis:
Below is a screenshot of Sid's DJTA weekly chart, including his Elliott wave count, and Hurst cycle analysis: (click to enlarge)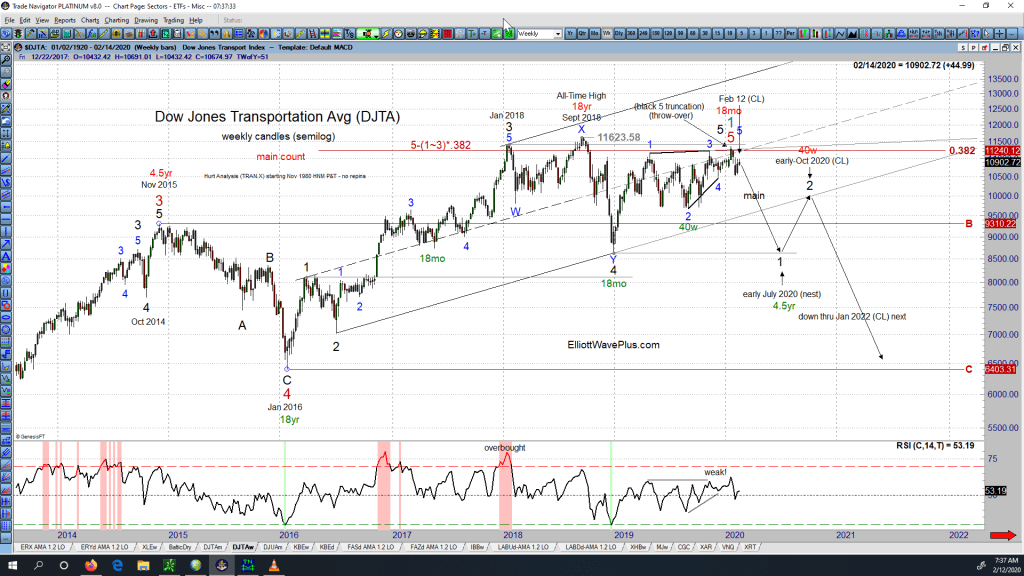 Sid presents his Elliott wave counts (which include integrated Hurst cycle analysis) on over one hundred trade-able items every weekend.   He sends out updates on about half of those items every Wednesday.  Sid's unique approach is well worth considering, especially if you've been let down time and time again by "pure" wave counters who don't integrate cycle analysis into their wave counts.  So please consider a subscription.  There are several different levels of service.  Just head over to Elliott Wave Plus and be sure to check out our free educational resources while visiting.  If you have questions regarding subscription, please send an email to [email protected].
Sid Norris – https://elliottwaveplus.com/
(There is risk of loss in all trading.  See the full disclaimer at our site.)
Testimonials:
"Hi Sid,  I'm a young trader, new to the world of forex trading.  I've viewed some of your postings and they are quite amazing!  Your analysis covers all the essential rules and guidelines of the wave principle that I've had such a hard time grasping until now. Thanks for your help and support." – S.H.
"I've been trading these markets (and subscribing to professional services) for more than forty years and find your work and resulting forecasts, targets, objectives, etc. to be free of personal bias, and remarkably accurate.  That is why I continue to subscribe.  Well done." – W.M.
Click here for many more testimonials spanning the last ten years.